2023 Notice of Race – 14th October 2023
The annual Sailing Regatta has grown into one of the most popular and exciting events on the annual Sea Scout Competition Calendar.
First hosted from the decks of the Scout Association of Ireland Sea Training Centre, the Albatross Lightship in 1971.
The Albatross was a legendary asset moored in Dun Laoghaire Harbour for many decades teaching and introducing generations to Sea Scouting and seamanship skills.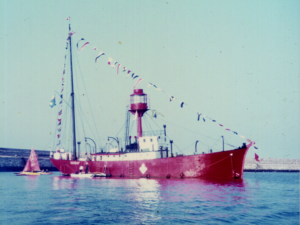 The Albatross was retired from service in 2000 and as a result the regatta wained for several years, but not before finding a new home under the stewardship of 9th Port of Dublin (Malahide) on the inner Broadmeadows Estuary, where it has been hosted still to this day.
An ideal and sheltered body of water.
With its new image and restart in Malahide, more exciting and challenging races were added under a Team Racing and small boat dinghy format.
As popular as ever, the races and fleets have grown and in 2021 the regatta celebrated its 50th anniversary with the addition of a new Albatross Race; a nod to the events origin.
Today the regatta is primarily hosted under a fleet of Pico and Topaz dinghies in a round-robin followed by knockout format.
Each year the sailing regatta completes a pledge to ensure the event is hosted sustainably and creating awareness to the competitors about ocean wellness.
The regatta is often awarded a Gold Award as part of the Sailors for the Seas Campaign.
https://www.sailorsforthesea.org/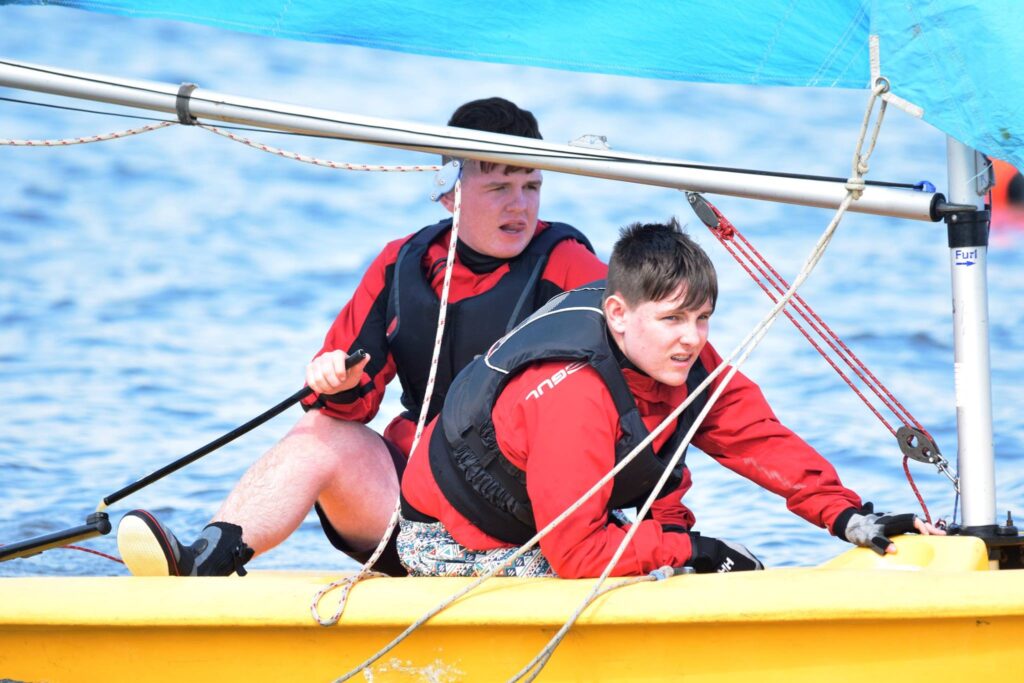 Team Racing
Team of x6 Scouts/ Ventures sailing double-handed on x3 boats against another team of x3 boats.
Seamanship Challenge
Team sailing on a larger multi-handed boat sailing a course while completing seamanship skills as a crew.
Man-overboard, anchoring, etc.
Albatross Race
All against single-handed.
Rovers & Scouters Race
O18s single-handed.
Centenary Cup
Presented by 9th Port of Dublin (Malahide) on their Centenary celebrations. Awarded to the top scoring boat at the event.
In 2013, in conjunction with 'The Year of the Gathering', the Sailing Regatta was hosted with an international element with scout sailors from Belgium, Spain and Denmark entering.
The 2013 event was also held as the Irish qualifier for the International Sea Scout Sailing Regatta, The Koch Cup. Hosted in Long Beach California.
The 2014 event saw the return of the Seamanship Challenge.
2015 was another qualifier for the Koch Cup International Regatta.
Sailing Regatta 2022
Team Racing – 7th Port of Dublin (Howth)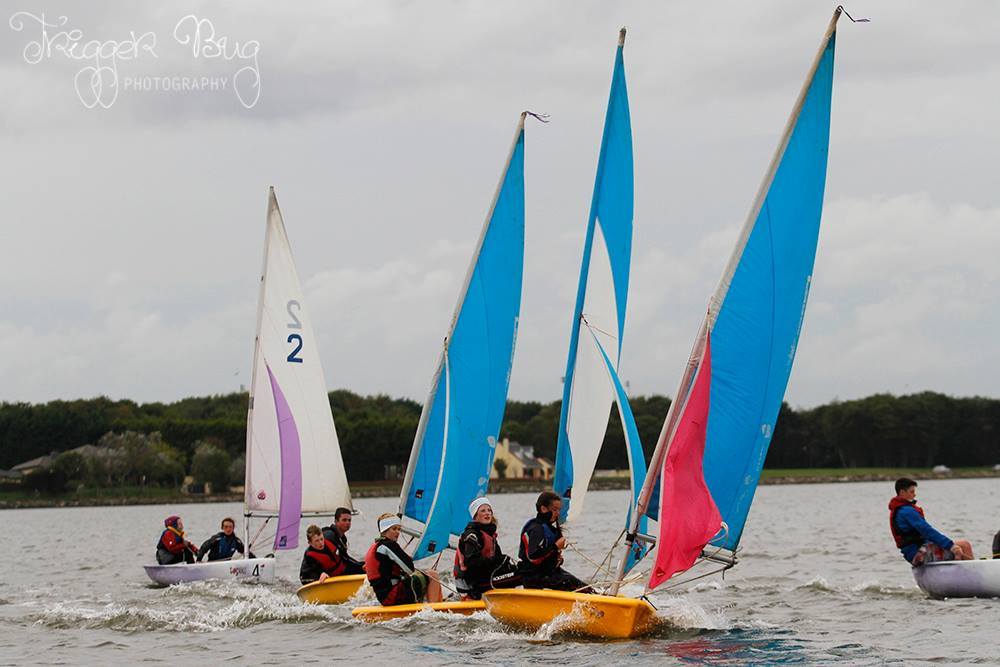 Seamanship Challenge – 9th Port of Dublin (Malahide)
Albatross Race – 7th Port of Dublin (Howth)
Scouters Race – 9th Port of Dublin (Malahide)
Centenary Cup – 7th Port of Dublin (Howth)
Sailing Regatta 2021
Team Racing – 9th Port of Dublin (Malahide)
Seamanship Challenge – 9th Port of Dublin (Malahide)
Albatross Race – 9th Wicklow (Port of Arklow)
Scouters Race – 9th Port of Dublin (Malahide)
Centenary Cup – 9th Port of Dublin (Malahide)
Sailing Regatta 2020
Covid19
Sailing Regatta 2019
Team Racing – 9th Port of Dublin (Malahide)
Seamanship Challenge – 9th Port of Dublin (Malahide)
Scouters Race – 9th Port of Dublin (Malahide)
Centenary Cup – 9th Port of Dublin (Malahide)
Sailing Regatta 2018
Team Racing – 9th Port of Dublin (Malahide)
Seamanship Challenge – 9th Port of Dublin (Malahide)
Scouters Race – 9th Port of Dublin (Malahide)
Sailing Regatta 2017
Team Racing – 24th Galway (Port of Galway)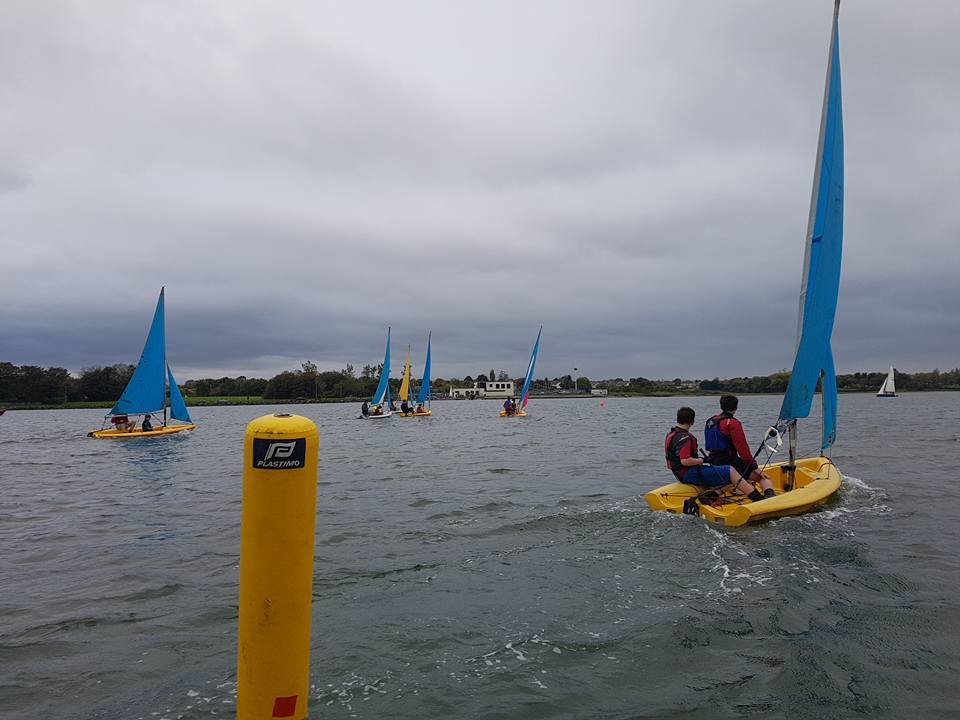 Seamanship Challenge – 9th Port of Dublin (Malahide)
Scouters Race –
Sailing Regatta 2016
Team Racing – 24th Galway (Port of Galway)
Seamanship Challenge – 8th Port of Dublin (Dun Laoghaire)
Scouters Race – 24th Galway (Port of Galway)
Sailing Regatta 2015
Team Racing – 24th Galway (Port of Galway)
Seamanship Challenge – 8th Port of Dublin (Dun Laoghaire)
Scouters Race –
Koch Cup Qualifier – 8th Port of Dublin (Dun Laoghaire)
Sailing Regatta 2014
Team Racing – 8th Port of Dublin (Dun Laoghaire)
Seamanship Challenge – 9th Port of Dublin (Malahide)
Scouters Race – 9th Port of Dublin (Malahide)
Sailing Regatta 2013
Team Racing – 9th Port of Dublin (Malahide)
Scouters Race – 9th Port of Dublin (Malahide)
Koch Cup Qualifier – 9th Port of Dublin (Malahide)