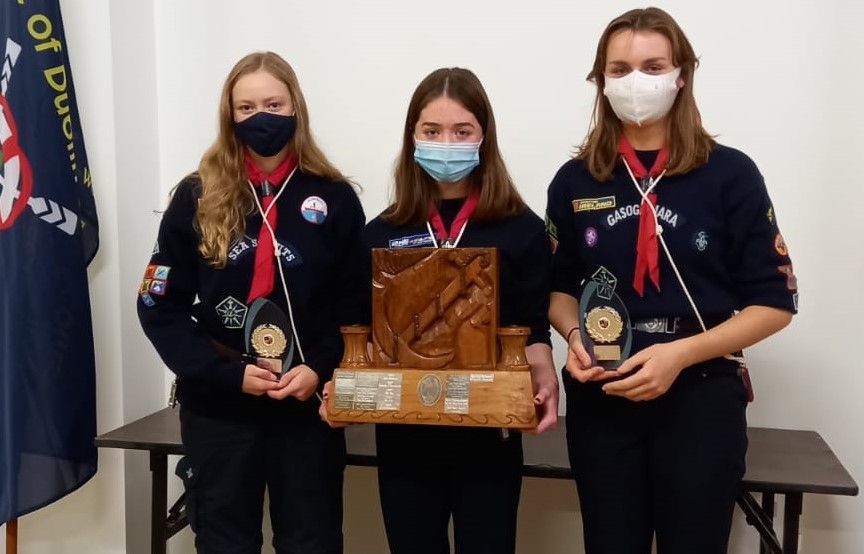 At the Master Mariner competition, Sea Scouts compete for two awards, for the highest ranking Venture Scout and Rover Scout. 
The Venture Scout winner is presented with Captain Desmond Fortune – Founder's Award. Captain Fortune was a founder member of the Irish Institute of Master Mariners. During the WW2 he was the captain of the MV Kerlogue, which was involved with a number of incidents, being attacked by both sides and rescuing troops from both sides.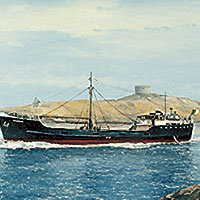 On passage from Port Talbot to Lisbon the Kerlogue was attacked about 130miles south of Ireland by two unidentified planes. We now know that they were RAF Mosquito planes.  Captain Fortune had both legs fractured. The twenty-minute attack not only seriously affected the crew, (Captain Fortune relied on crutches and suffered from wounds he received for the rest of his life) but also the ship. The entire bridge was destroyed, both lifeboats broken along with her compass and radio transmitter and water was overwhelming the engine room.  Thankfully the pumps were able to keep the inflowing water under control and she slowly limped into Cobh.  It was her cargo of coal, which saved her.  Shells, which ripped through her deck, lodged in the coal and did not reach her hull. 
—-
The Rover Scout winner is presented with the Captain Cian Timmons Memorial Award. This award is to be presented from 2023.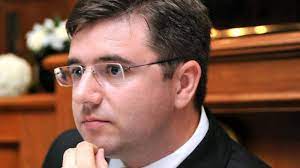 Captain Timmons was a Sea Scout, Venture Scout and Assistant Sea Scout Leader in 5th Wicklow Bray Sea Scouts as well as having been involved with Greystones Sea Scouts and Carrigrohane Scouts in Cork City. He participated in the 1997 International Youth Expedition to Kenya (IYEK) and later served on the Scout Commissioner's Team in Scouting Ireland SAI and the International Team in Scouting Ireland. He was an Assistant Troop Leader at the World Scout Jamborees in Thailand and in the UK. Accomplished in everything he put his mind to, Cian was a truly inspirational figure to all who came into contact with him. He held the Chief Scout's Award (Scouting Ireland SAI), the Explorer Belt and the Bronze Medal of Merit from Scouting Ireland (CSI). Cian was a holder of a Gaisce-The President's Award (Gold), an awardee of the state's Civic Merit Award for long service as a President's Award Leader and was a nominee of the Minister for Children and Youth Affairs on the Council of Gaisce. Cian held various posts as a ship's officer with his final roles being with BP out of Singapore and Angola. His professional career was incredibly accomplished. At the time of his passing he was a Master Mariner (unlimited), a Chartered Marine Technologist, a Chartered Shipbroker, a Fellow of the Royal Geographical Society, a member of the Council of the Irish Institute of Master Mariners, a liveryman of the Honourable Company of Master Mariners and a free man of the City of London. He also held a Master's degree in Maritime Operations and Management from City University, London. Captain Timmons became ill suddenly aboard his vessel off the coast of Angola on 21 February 2014 and died aged just 35.
——
Other prizes may be presented from time to time based on the activities in a specific year of competition.